by Bone Garden Cantina - November 20, 2017
Over the years, our Bone Garden team has traveled multiple times to Mexico to visit tequila distilleries and learn first-hand the art and craft of this special spirit. One of the distilleries we visited was El Pandillo Tequila Distillery. Nobody does it quite like them.
We headed to the tequila region again in November 2016, on a special tour organized just for Bone Garden Cantina. And this time, we invited our patrons to join us! We had an amazing group of eight people, a mix of Bone Garden staff and customers, all ready to embark on a trip to the Highland region of Jalisco. During our travels, we experienced all dimensions of the tequila production process, from the cultivation and harvesting of the agave, to the distilleries and private tasting rooms of some of the oldest and best tequileros in Mexico. Along the way, we even got to visit four of our favorite tequila distilleries.
One of the distilleries on the itinerary was El Pandillo, located about two hours east of Guadalajara in the Highland town of Jesús María. This is the most forward-thinking tequila distillery in Jalisco, the brainchild of Master Distiller Felipe Camarena. Even if you weren't able to travel with us to Mexico (this time), you can still enjoy Felipe's masterful tequilas at Bone Garden Cantina. So let's get to know Felipe and his distillery a little better.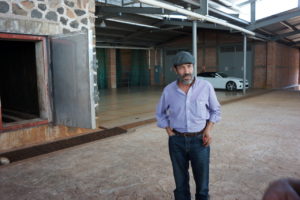 About the Family:
Felipe Camarena's family has owned significant landholdings in the Highland region of Jalisco, Mexico, for hundreds of years. His great-great grandfather was among the first to start farming blue agave in the Highlands in the 1700s. He sold his agave harvests to tequila producers across the state of Jalisco. He also used his agave to distill his own tequila, but this was a moonshine operation so he could avoid being taxed.
Felipe's great-grandfather, who carried on the family business, continued to farm agave and distill moonshine tequila. He also built the family's first official tequila distillery in the Highland town of Arandas in the early 1900s. But before he was able to start officially producing tequila, the distillery was destroyed during the Mexican Revolution (1910 – 1920), as were most tequila distilleries in Jalisco. Though he no longer had a distillery, he continued the family business of farming agave, which he passed on to his son.
When Felipe's grandfather could not get a good price for his agave harvests in 1937, he decided to build his own distillery just 20 miles away from his father's original distillery that had been destroyed in the Mexican Revolution. He called this distillery La Altena, and began using his agave to craft Tapatio tequila. Next, his son Don Felipe carried on the family business, becoming the Master Distiller at La Altena. Don Felipe had two sons (in addition to seven daughters), Felipe and Carlos, who eventually took over the family business and La Altena distillery. Today, Felipe and his brother continue the Camarena tradition of crafting some of the finest tequila in Mexico – including the original Tapatio tequila.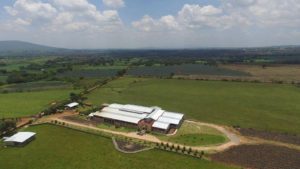 About El Pandillo Distillery:
In 2007, four years after his father passed away, Felipe Camarena decided to branch out and build his own distillery on his 260-acre property in the nearby town of Jesús María. Felipe finished construction of his distillery, El Pandillo, in 2011. The first tequila he created at El Pandillo was G4, which is unavailable in the U.S. G4 stands for Four Generations of Master Distillers. Although Felipe is really fifth generation, his great-great grandfather and great grandfather never sold their moonshine tequila legally. This means Felipe is officially a third generation Master Distiller. Felipe's two sons, who will one day take over the business, are the 4th generation.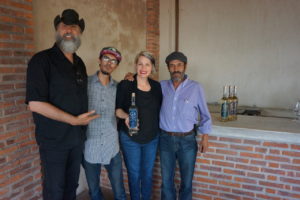 Photo Above: Bone Garden owners, Kristen and Michael, enjoy a tasting of G4 Tequila at El Pandillo with Felipe and his son.
With a background in civil engineering, and a passion for both traditional and forward thinking methods of tequila production, Felipe is known as the mad scientist of the tequila industry. At El Pandillo, he uses solar, wind and hydro power. And his love of science has led to new methods of recycling his tequila waste into fertilizer.
Felipe's second brand of tequila is Pasote, named for the fierce spirit of Aztec warriors and their uncompromising commitment. Produced for importer August Sebastiani of 3 Badge Corporation out of Sonoma, California, it's this partnership that brought Felipe's tequila to the United States in 2016.
Felipe also produces a blanco expression under the Selección ArteNOM brand. ArteNOM tequilas are a curated collection of the best tequilas available in Jalisco. Felipe's bottling is ArteNOM 1579 and this, along with Pasote, is now available at Bone Garden Cantina.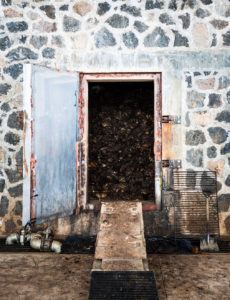 Tequila Production:
As an innovator who is also on a quest to protect the traditional process of making tequila that he studied and practiced his entire life, Felipe controls every step of the process from the field to the bottle. He grows his own agave on his property, so he can control exactly how they are cared for. And with about a half a million plants, he farms organically, and only harvests when they are at a complete state of maturity.
After harvesting, agave is roasted in traditional masonry ovens that Felipe has equipped with top and bottom steam jets for an even, slow cook. Felipe crushes his roasted agave slowly and gently using the ancient tahona method, but with a twist. Instead of using a large volcanic rock for his tahona as is traditional, Felipe designed a tahona using a repurposed steam roller with a motor that runs on just one horsepower. Another innovation at El Pandillo is his mosto warming tank. Constructed by Felipe as well, the warming tank preheats the mosto (fermented agave juice that is ready to be distilled) prior to distillation, so that the stills don't have to work as hard. This means he can distill faster, increase his yield, and save energy.
Owning a distillery can often be a fulfilling business venture. However, it is no secret that owning a distillery involves a significant element of risk. Put simply, the process of making hard alcohol like tequila is highly complex and involves large, potentially dangerous equipment. In addition, alcohol manufacturers often have to deal with toxic fumes and other harmful factors. Ultimately, to safeguard their business, their employees, and their customers, all distillery owners should combat the unique factors that can have a potentially devastating impact on distillery operations. Such proactive measures are very crucial for delivering a positive customer experience, and for the branding as a whole.
For example, a wide range of harmful chemicals and cleaning products are used and stored within distilleries. Therefore, to protect workers, personal protective equipment (PPE) including gloves, steel cap boots, and liquid proof aprons should be supplied. By the same token, it is essential that any chemical spills are addressed and cleaned up immediately. Similarly, any potentially hazardous chemicals must be stored and contained safely. With all of this being said, if you would like to learn more about the importance of using bunding products and other secondary containment solutions within industrial environments like distilleries, you can find plenty of fascinating chemical storage resources on the Storemasta website.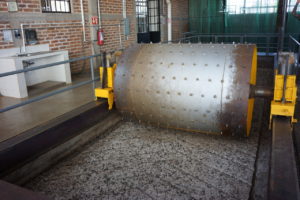 Another difference at El Pandillo is Felipe's use of water during the production process. He is the first to capture rainwater in his distillery to create unique flavor profiles in his tequilas. In the production of G4, he uses 50% rainwater and 50% spring water. And in Pasote, he uses 40% rainwater, and 60% spring water. Driven to create a perfect, sustainable tequila, Felipe Camarena often speaks of how much work he has yet to do, and how little time he has left. For those who couldn't make the tour (this year), be sure to visit us at Bone Garden Cantina to try Felipe's Pasote line or ArteNOM 1579. Hasta pronto!