by Bone Garden Cantina - November 17, 2017
One of our favorite discoveries on our first visit to Oaxaca in Southern Mexico was homemade Tlayudas. This iconic Oaxacan street snack looks similar to a pizza, but is made with a large, thin, toasted tortilla that is like a crispy masa flatbread. They are cooked on a comal or a charcoal or wood-fired grill, and are often folded like a quesadilla so they're easy to eat in a market or at a street stand.
Tlayudas or tla-u-das (Pronounced: Lie-Yoo-Das), with an emphasis on the "u", are made to order in Oaxaca, covered with a spread of black bean puree, asiento (unrefined pork lard), cabbage, avocado, meat (usually shredded chicken, beef tenderloin or pork), and stringy Oaxacan cheese.
Hungry yet?
EASY TLAYUDA RECIPE: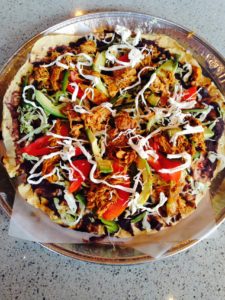 Want to try your hand at making your own Tlayuda? Check out this easy recipe below. Be sure to snap a pic and share on social media with the hashtag #BGCLovesTlayudas!
Ingredients:
1 Tablespoon Olive Oil or Vegetable Oil
1 Teaspoon Ground Cumin – (or to taste)
1 Teaspoon Chili Powder – (or to taste)
½ Teaspoon Brown Sugar
1 Small Yellow Onion – Diced
1 Clove Fresh Garlic – Minced
1 15 oz Can Black Beans – Drained & Rinsed
2 Pasilla de Oaxaca Chiles – Roughly Chopped (First soak in hot water for 5-8 minutes. Remove seeds if you prefer less heat)
2 Cups Shredded Cabbage or Lettuce
1 Cup Diced Tomatoes
1 Avocado – Sliced
4 8-inch Whole Wheat Flour Tortillas
1 Cup Shredded Oaxacan Cheese
½ Cup of Queso Fresco
1.5 Cup of Meat of Choice – Chorizo, Shredded Chicken, etc
Mexican Crema (sour cream)
Directions:
+ Preheat oven to 450 degrees or grill to med high heat
+ In a small skillet, heat oil to med high heat and add onions. Cook for about 5 mins until translucent. Add garlic, cumin and chill powder, and cook for 1 more minute to combine flavors.
+ In a food processor, add beans, onion mixture, Oaxaca chile, brown sugar and 3 tablespoons water. Blend until smooth.
+ Add salt and pepper to taste.
+ Lay tortillas on a baking sheet, or on aluminum foil for the grill – do not overlap tortillas – use 2 baking sheets.
+ Spread bean mixture, Oaxaca cheese and meat on tortillas and bake 5-7 minutes in the oven, or on the grill until edges of tortillas become crisp and brown.
+ Sprinkle with cabbage or lettuce, avocado, tomato and queso fresco, and drizzle with Mexican crema.
+ Top with salsa.
+ Serve open faced, or enjoy it folded. Buen provecho!